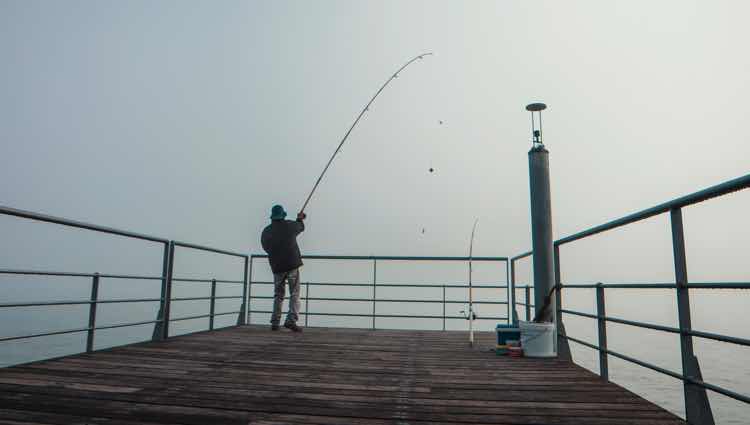 Want to go ocean fishing, but don't own a boat? No problem. Try California pier fishing instead. You can catch ocean fish without the hassle of having a boat.
 
Fishing in California is very diverse because of the fish migrating every season. The weather, however, is sometimes a factor that limits people from fishing. Rain, fog, and wind may occasionally be dangerous.
 
Since the fish are diverse, fishers have a lot of techniques depending on the type of fish they are targeting. They can do:
fly-fishing, 
surf fishing, 
bait-casting, 
pier fishing, and 
many other methods.
While a boat gives you access in California to thousands of miles of waterways and coastline fishing, it also has obstacles. Docking it, trailering it, maintaining it and paying the price of operating are all questions to take into consideration. Not every saltwater angler owns a boat. 
Now, not having a boat is a limitation for many for their ability for fishing. But, there are plenty of possibilities for pier fishing in California for people without boats.
How would you go sea fishing without a boat? 
Fishing publications highlight pictures about fishing that usually involves a boat. Some fishers might feel that the only proper way to fish is by boat.
But nowadays we see a growing community of shore-bound anglers. They don't let the lack of a boat stop them from enjoying the fishing.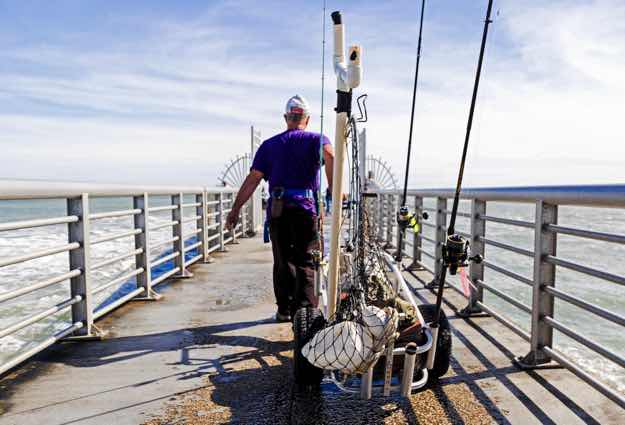 You can find pier fishers almost everywhere. Some with fancy tackle, some shabby taped together tackles. Their fishing tackle boxes also come in different sizes and shapes, as long as it can be wheeled or carried to the pier.
Fishing without a boat has led them to evolve their practical style of fishing, although there are lots of fishing products for pier fishers nowadays.
Pier fishing – an art of its own
You can just plunk a chair down at a pier and start hauling in fish, but can you catch anything without the skills born by experience?
Since most of the fish usually come in waves, it might be hard getting even one bite if you don't know when and where to cast. You can typically find them bottom fishing, hauling in two or three catches at a time.
Pier anglers just have to have a way of knowing when to reel in their line after hooking more than one fish.
And that bigger catch like mackerel and king mackerel are also reachable for pier fishers.
You can see those fishers at the end of the pier using all sorts of gadgets intended to float live bait just under the surface.
We've seen kite rigs, too, so they can lure the fish as far off the pier as possible with an appliance that merits a patent.
Fishing with two rods
Mostly these people use a method called the two-rod approach. Using two rods is relatively common these days.
They have a heavy fishing rod with the bail open and a lighter one where they attach the bait. When they cast out, they place the line many yards off the pier. When a fish bites, they pull the lighter bait rod back, leaving the angler to battle the fish with the heavier rod. Merely having two rods increases the chances of catching fish.
Anglers fishing with two rods take up more space, and there can be issues with lines becoming crossed. It is best to stick to using one rod on a busy pier to avoid any problems.
You can find more pier fishing tips from saltstrong.com.
Fish for Dinner
Most of the pier fishers go fishing for supper, so don't expect to see them release their fish after catching them. They come to enjoy fishing and socialize with each other.
They are a special kind and possibly have more patience, inventiveness, and endurance than any other fishing group.

Fishing with Children
Often as adults, we want to share our hobbies and pastimes with our children. When you take your child fishing, keep in mind the safety.
What kind of fishing trip are you trying to set up? A day of bottom fishing? Take your child deep-sea fishing ?
Does pier fishing suit your needs? Yes, it is one of the best ways to fish with children.

Regardless of what you decide is best, have the safety equipment with you at all times.

What are the best piers for fishing in California?
Majority of coastal cities in California have a public pier or pay-to-fish pier. You can usually rent tackle and buy bait at the piers. If you're having problems, many pier anglers will help and give you tips.
 
There are over fifty public fishing piers in California. You can find information on each at pierfishing.com
 
One thing of note is that you don't need a fishing license for public fishing piers in CA.
 
For example, in Long Beach, when they constructed the downtown marina, they built some small piers especially for fishing along the southwest side of the peninsula that divides the marina from the Los Angeles River mouth. Belmont Pier is older, and lots of folks fish there.
Pacifica pier, you can catch mackerel, salmon, rockfish, jacksmelt, crabs, halibut, surfperch, sharks, and striped bass on that pier.
Tips for fishing on a pier
Every pier is different. The best way to get information on where and when to fish, is to ask the locals. Be friendly, you can find old fisherman at the bar, in a bait store, or in the morning on the pier themselves!
 
If you go early in the morning or evening, you're almost always guaranteed to catch something. When you arrive at the pier, you'll see that everyone has caught something.
 
Look for the fish under the pier. There might be more than in the waters far away from the pier.
 
Bringing up big fish on a pier has always been an issue. A pier landing net (suspended by a rope) may be necessary for large fish.
Bottom line
If you do a little pre-trip planning for your pier fishing trip, you can get rewards for your effort. But it can be as simple and laid back as you want to make it.
If you're looking for a more relaxed, laid-back type of fishing experience, pier fishing can be just that!…